Super Flat Eyelashes are the latest and most innovative product of Long Lashes. The flattened, elliptical shape of the Super Flat Lashes provides the same amazing and dramatic effect that we already used to by the Flat Lashes of 0.2 and 0.15 thickness. But the difference is huge. The silk light of the Flat Lashes are replaced by a beautiful, matt black colour.
However, not only in colour, but also in design, Long Lashes managed to achieve a perfect, natural effect and the most durable result so far. Compared to Flat Lashes, the weight of the Super Flat Lashes has been reduced by nearly half, making it even more adherent to the own eyelashes, which increases the lifespan of the built eyelashes by 35%. Super Flat Lashes are 75% lighter than the Mink or Silk Lashes, making it undetectable to wear.
A Super Flat Lash can be fitted from the bottom or top. Although the technique is the same like by the Flat Lashes extension, its 1D effect disappears completely. The reason is that each lash has a long, deep cut lengthwise, so it curves into two creating an effect achieved with a double technique extension. This is a completely new design that has not been used by any lashes so far, which is responsible for the richer and more natural effect and the flattened, elliptical shape for the longest lasting result.
Why choose Long Lashes Super Flat lashes?
With 1D technique, they create 2D effect
With their surface adapted to the curve of natural eyelashes, they adhere more easily and permanently
Their flatter fit ends creates a more natural look
35% more durable
Super Flat lashes are 75% lighter, so this makes it undetectable to wear
Elegant matt, black design
Available: C and CC curves
Super Flat lashes are ideal for:
Advanced eyelash artists
One contact point 2D techniques
35% more durable and 75% lighter 2D lash sets
Dramatic look eyelash extensions
Why Long Lashes Super Flat lashes are unique?
The bonding surface of Super Flat lashes is flatter than previous models, providing a greater contact area for adhesion. The curved end, adjusted to the cross-section of the natural lashes, almost smooths over the fibers, so it sticks to the largest possible area. All this, combined with the extra light material, provides a special 35% greater durability.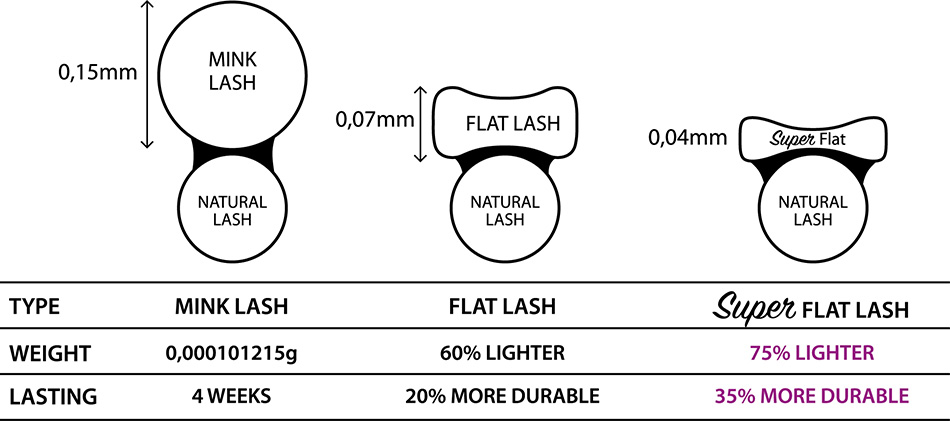 Extreme flat adhesive area and lightweight design and deep, long cut lengthwise make Super Flat lashes special. With a design similar to a snake tongue, lash adheres at one point, yet they appear double at the ends, increasing the volume of the built-in lash line.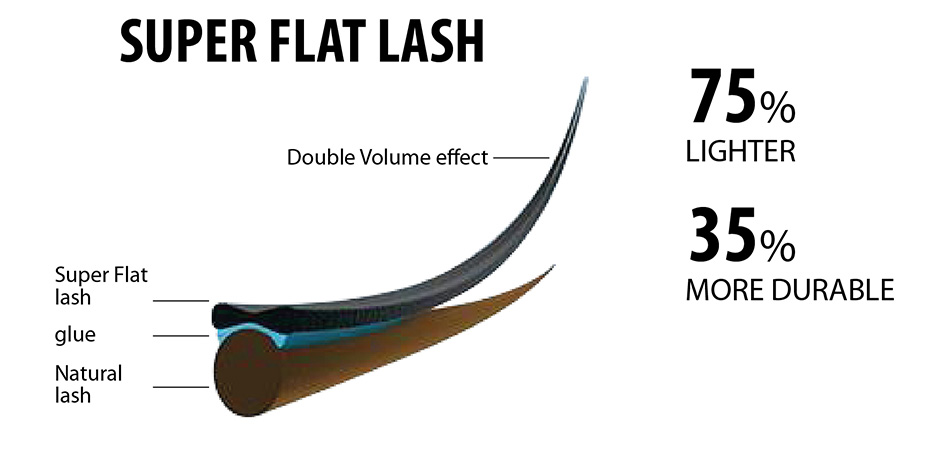 Make sure that SUPER FLAT lashes are applied on the top or bottom of the natural lash (not on the side)!